Connections to the Past

A University of Miami architecture student discovered her mother's childhood home and meets her mother's best childhood friend.
For University of Miami student Camille Cortes her first trip to Cuba promised to be a chance to hone her skills in architecture while documenting the interior of Santa Cecilia Church in Santiago de Cuba on the eastern part of the island.
But the 21-year-old School of Architecture fourth-year student never envisioned the emotional tsunami that would envelop her.
"My mother lived near the church before she immigrated to the U.S., so I visited the home,'' says Cortes. "Her best friend from those days, Greta, saw me and recognized me. That visit was very emotional because she grabbed me and hugged me and told me I was the spitting image of my mom."
I offered to show her a picture of my mother," Cortes says. "But she declined to see the picture saying she preferred to remember her as she was when she last saw her."
About the Photo
Downtown Santiago de Cuba, on the eastern part of the island. Photo credit: Lok Chan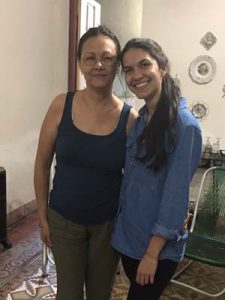 As the daughter of Cuban-American parents on her first trip to Cuba, Cortes knew the experience would be eye opening. She grew up listening to how her mother Annette had spent a childhood in a large house in Santiago where her father owned a shoe store and a gym.
"They were very popular on Corona Street where they lived," she says. But her mother left the island along with her parents once the Cuban government appropriated her father's business.
For Cortes, the trip proved to be much more surprising than she envisioned. Santiago was poorer than she imagined and many of the buildings were extremely dilapidated, including her mother's former house. She saw beggars on the streets and many of the restaurants lacked half of the items listed on the menu.
"I was blown away by the deterioration," says Cortes. "When I told my mother she was very sad."
Cortes says that the entire trip was special to her but she most treasured the time she spent with Greta, her mother's childhood friend. "She told me stories that my mother had also told me," she says. "They had not seen each other since they were both 11 but she remembered everything."
"I offered to show her a picture of my mother," Cortes says. "But she declined to see the picture saying she preferred to remember her as she was when she last saw her."
- BARBARA GUTIERREZ / UM News