Digital Home for Cuban Theater

With a passion for Caribbean and Latin American theater, UM's Lillian Manzor helped develop the Cuban Theater Digital Archive with the Otto G. Richter Library and Cuba's National Council for the Performing Arts.
Associate Professor Lillian Manzor finds theater of the Caribbean and Latin America fascinating. Not just the acting, but more so everything else a production brings and leaves behind once the curtain falls for good.
The "traces" of live performances, as she calls them.
Manzor, chair of the University of Miami's Department of Modern Languages and Literatures in the College of Arts and Sciences, has made a career studying theater items like playbills, posters, advertisements, scripts and notes on costume or stage designs.
Analyzing these materials, Manzor says she discovers insights about Latin America, the Caribbean, and the exchanges of bodies and cultures with the Americas and Europe during given historical periods.
For instance, advertisements in 1950s playbills from Cuba give a sense of the role U.S. businesses once played on the island. Analyzing materials a decade or so later from productions in Miami would paint a specific picture of the exile of Cubans to the U.S. and a sense of what carried over during their migration.
"Theater is like a thermometer for what is happening in society," Manzor says.
In the 1990s, when Manzor began exploring her interest in using theater to inform scholarly work, she struggled with a challenge: it was difficult to find materials related to live theater performances—particularly performances in Latin America, the Caribbean, and the Latino diaspora. Though the internet was in its infancy, Manzor dreamed about an archive that could house these materials in one, easy-to-access place.
About the Photo
Scene from El enfermo imaginario (The Imaginary Invalid) at the Teatro Universitario de la Habana (1940s). Photo courtesy of: Teatro Universitario de La Habana, Centro de Studios del Diseño Escénico, and Cuban Theater Digital Archive.
That dream became a reality in 2003 when the University of Miami created a small grant for faculty interested in giving materials in special collections a digital life. By that point, Manzor discovered the University's Cuban Heritage Collection had a few collections related to theater in Miami: mostly playbills and programs of theater produced in the city since the mid-1960s. However, none of these materials had been organized with a specific purpose in mind.
Manzor began to work with Richter Library to digitize some of these materials. She also began to partner with the local theater community and get the word out about the larger archive she hoped to create and sustain.
In 2005, the first version of her archive launched with only a few collections available. From there, it slowly developed until a few years later, when a series of grants from the Andrew W. Mellon Foundation allowed Manzor to narrow her focus on theater in Cuba and the Cuban diaspora.
"You can't tell the story of Latino theater in Miami and the United States without weighing the significant contributions of Cubans," says Manzor.
With newfound resources, Manzor was able to build relationships with several repositories of Cuban theater materials throughout Cuba. By working collaboratively, her team was able to help these groups in Cuba have access to the technology to digitize their own materials and share those digital versions with the University of Miami. She also worked with a community videographer who visits Cuba once a year to record productions during major theater festivals held in Havana and other cities. This partnership continues today.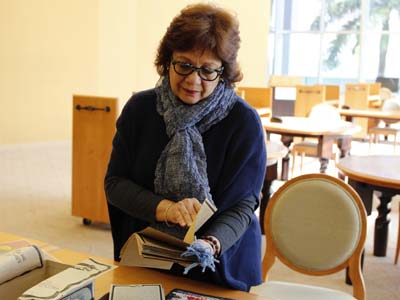 The Cuban Theater Digital Archive serves as a mighty companion to the growing collection of physical theater materials that the Cuban Heritage Collection has continued to preserve over the years. Their existence has served as a resource for research and fostering innovative and interdisciplinary scholarly work that crosses multiple fields and disciplines.
For example, Manzor recalls one study led by a student who analyzed advertisements in theater materials to chart the evolution of small businesses in Miami to accommodate Cubans and other Latinos during the early 1970s. The research shed light on how businesses slowly began to become reminiscent of establishments in Cuba—particularly restaurants. Spanish words were added to the names and menus began to feature items like croquetas and Cuban sandwiches.
The massive collection of digital materials in the archive also includes years of theater programs that stretch back to the 1940s, photos of original costume designs, materials from the personal collection of Cuban theater directors such as Herberto Dumé, and the collected records of INTAR Theater, one of the oldest Latino theater companies in the United States.
In the physical collection of the archive at the Cuban Heritage Collection, you can request to view items up close and learn more about influential figures such as Randy Barceló, a costume and set designer who worked on Broadway musicals such as "Jesus Christ Superstar." Some items available to view are Barceló's costume sketches, set designs, and the fabrics he chose to work from.
"There are so many unique materials we now have access to," said Manzor. "Spending time with these collections will not only teach you about the history of Cuban theater on and off the island but also how digital scholarship creates bridges between communities that are politically separated."
- ANDREW BORYGA / Special To UM News