Havana: The 'Rome of the New World'

UM architecture professor has deep roots to Cuba and its unique architecture.
For someone whose curiosity was piqued as a child interested in how garbage cans function, Victor Deupi, a lecturer at the University of Miami's School of Architecture, has evolved his architectural enthusiasm to educate on the importance of Cuban architecture through exhibits and tours of the island.
Deupi's passion stems from both his roots and his early research on 18th century architecture in Europe.
"Eighteenth century Rome is much like the Rome you see today," says Deupi, recently elected president of the CINTAS Foundation, which promotes the professional development of Cuban architects, writers, musicians, and visual artists. "When you are in the center of Rome, you are in an 18th century city that has 2000 years of history."
His early research on 18th century architecture in Rome, Spain and Italy allowed him to study the differences between the buildings in European countries and the small island of Cuba.
"When you step into Havana, you're in a city that has 500 years of new world architecture and very little has changed since the 1950s," Deupi says. "Havana is the Rome of the New World, simply put."
About the Photo
Reminiscent of Spanish and Roman city squares, Old Havana's Plaza de la Catedral invites people to gather around, eat, talk and linger. Photo credit: Peter E. Howard
Born in Washington, D.C., his parents left Cuba after completing a degree in architecture and the revolution forced them to work for the government. His father told stories about the resorts in Varadero, the clubs in Havana and the "golden era" of Cuba. Deupi's mother's maternal family had "humble beginnings," working on a farm outside Matanzas, before his mother was born and raised in Havana.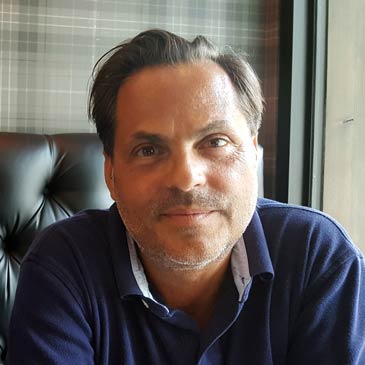 His maternal grandfather worked in the Bacardi offices in Havana, considered one of the most important architectural buildings of the 20th century because it "conveyed the same kind of modernity that the Chrysler building had in New York," explains Deupi.
On the other side of the family, his paternal grandfather, Jose Deupi, was both a friend and gambler for the famous novelist, Ernest Hemingway.
While teaching at the University of Notre Dame in the 2000s, Deupi learned about academic licenses as a way to take students to Cuba.
"I realized, 'Here's my chance and way to begin this love with the island in a way that I couldn't previously,'" he says.
During his first trip to Cuba with students from Notre Dame, they not only studied the city and buildings of Havana but also went to the city of Trinidad—about 200 miles southeast of the capital—to get a sense of a "colonial city in addition to the capital city."
Since then, Deupi has returned to Cuba several times to lead cultural groups and architectural tours.
Deupi left Indiana in 2006 for Connecticut, and then moved to Miami three years ago. In South Florida, he's met other Cuban and Cuban-American architects. He's worked with them to compile an archive of Cuban architecture and created an exhibit that opened at the Coral Gables Museum in late 2016, Cuban Architects at Home & In Exile: The Modernist Generation, with UM Architecture Professor Jean-Francois Lejeune.
"The long-term project is to build the archives of Cuban architecture and make it digital, making it available to the entire world. Right now, that does not exist."
In sharing his love for and educating on Cuban architecture, Deupi highlights the continual exchange of ideas and art between the island and its neighbors near and far.
"The idea of re-thinking Cuban architecture, not as something that happened in Cuba, but as something that happens globally wherever Cubans go is really important."
Deupi also lectures at the University of Miami's School of Architecture to continue his interests in Cuban architecture with students and colleagues.
"What better place to do it than here, in Miami?" he says.
- ALINA ZERPA / UM News