Impresiones: Sights and Sounds from Travels in Cuba

University of Miami students who visited Cuba in March 2017 describe their experiences in their own words.
In March 2017, Lillian Manzor, associate professor and chair of the Department of Modern Languages and Literatures at the University of Miami College of Arts and Sciences, took eight students from her class, The Most Beautiful Land: Travels through Cuba, to cities across the island to explore Cuba's diverse landscape, wildlife and people. During the spring break trip, the students spent nine days studying monuments and memorials, exploring the Viñales Valley in the Pinar del Rio province, and visiting theatre groups and other cultural events in Havana, Cienfuegos, and around Viñales.
Read the students' impressions in their own words:
Margarita Castillo
Sophomore, Journalism
As I made my way to the airplane, everyone boarding (whom I assume are Cuban) seemed comfortable. This was not a typical airplane ride—it was louder than usual. People were chattering, not loudly, but conversationally. About 15 minutes later, when the pilot announced we were ready to depart, everyone started clapping as if there was a mutual understanding among them. Were they clapping because the plane was FINALLY taking off?
Cuba is beautiful, exquisite and unique. I was amazed at the classic cars zooming by as we made our way to the first homestay. Before the trip, I did not really know or think about what to expect. People were not in a hurry—they walked patiently and calmly. Apart from the obvious, something seemed different as each person walked past me. It finally came to me: these citizens were not hunched over looking down at a phone. Their limited amount of internet access is both a blessing and a curse. However, Americans have a lot to learn from this country. We are always stressed thinking about the future, and we forget to live in the present. Our free time is spent on social media, comparing ourselves to others, instead of learning something relevant or doing something we like. People in Cuba socialized at a more personal level rather than immersing themselves in the technological world to avoid conversation. The geographical features varied. There were hills, mountains, vines and flat terrain. Though there was a lot of pollution in the city, the countryside was beautiful and residents respected it.
From the ropa vieja to the tostones, the food was delicious and truly highlighted the richness of Cuban culture. The coffee was no exception. I was aware that we were eating much better than the citizens themselves and it truly made me appreciate even more the platter that laid in front of me. In fact, I found myself finding some sort of connection to the higher power; I grew a bit more thankful about my lifestyle. The Cuban hospitality is also one to cherish. Everyone seemed content overall. People were welcoming and open-minded.
My group and I went to see a play, Harry Potter or the End of Magic at the Trianon Theater in El Vedado, and we had the opportunity to have dinner with the cast afterwards. They were all young, down-to-earth actors, and it was neat to see how eager they were to talk to us. Though they were isolated from reaching information, they were socially conscious, asking us questions about campus Greek life and/or Ultra. Eventually, we befriended them and they took us to King Bar in El Vedado, the city's local dance club. When we entered, everyone recognized our new friends and announced their arrival by yelling that the actors had entered the building.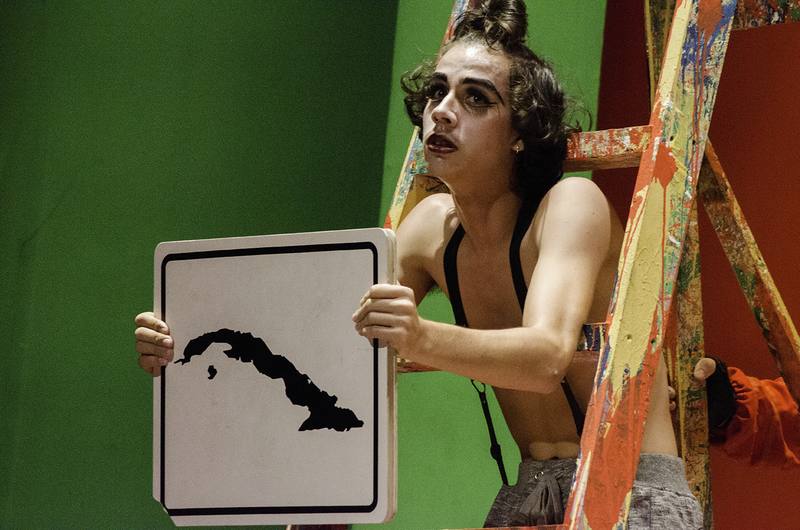 These actors inspired me. Their aura was vibrant and genuine. They want more in life and are not letting their situation stop them from chasing their dreams…and here was a privileged class visiting from the States with the assurance of returning back home just like that. Meanwhile, these prospering actors are working ten times harder than we are, and they do it all with a positive mindset.
For our last night in Havana, they wanted to share one last memory, so they told us to meet them at a local rooftop restaurant. Once again, the whole crew showed up with a big smile on their faces. We exchanged Facebook profiles, WhatsApp numbers, and told them we will show them around Miami when they come later in the year.
It was bittersweet seeing two groups of students (my peers and our Cuban friends), living completely different lives, come together to form a memorable relationship with each other.
Most would say that these "struggling" countries have a lot to learn from the United States, but I believe Cuba has much to teach us about life, culture, and friendship.
View Margarita Castillo's final project, Malanga: Official Voice of Manzor's Class Central Committee.
Michael F. Allen
Senior in Economics and Finance with a Minor in Spanish
Havana. By all rights the city should be one of the wealthiest and most successful cities in the Americas, however the turmoil of the last 60 years yielded drastically different results. Travel from the U.S. to Havana early in the morning led to a full day of sightseeing. The old city would fit in with the south of Spain without anyone noticing. The architecture and small details of the city are almost identical to Sevilla. That first night our trip to the theatre to see Harry Potter or the End of Magic exposed us to some unexpected freedom of expression as it pushed boundaries even by American standards. Post show, we met with the actors who were very enthusiastic about the prospect of coming to Miami in the coming months. The talented cast was even kind enough to show some of us around Havana.
About the Photo
Students from Professor Lillian Manzor's "Travels through Cuba" 2017 spring break course explored different historical, cultural, and natural sites throughout the island, including visiting the Viñales Valley in Pinar del Rio province.
From an economics perspective, the processing of sugarcane and the production of its derivatives from the fields in Viñales to el Museo del Ron in Havana was fascinating to see. The disparity between Miami and Havana becomes most apparent through the little things, such as lack of toilet seats (and toilet paper). Viñales further demonstrated Cuban ingenuity in the face of socialist adversity as pride in the family's farm and tobacco production lead to truly artisan products with minimal access to modern tools and supplies. The patriarch of the farm in Viñales, Ivan, was truly proud of the art his family perpetuated through his fermentation process.
Tours of the city from a slightly different perspective than my last trip were great to experience. Trips to Matanzas and Varadero revealed the vast disparity in wealth between the Cuban people and their tourists. The average income per month is USD $30, and most people need to work odd jobs to augment their income. The actors we met our first night worked odd jobs in addition to their nightly performances. The Cuban people are excited to see tourists return from the U.S., but I am unsure how much of the wealth brought into the economy truly goes to the Cuban people's pockets. The country has great potential to augment its wealth and is primed for expansion once an open economy returns. The beaches are beautiful, and tourism is way up from my last visit one year ago. I even unexpectedly bumped into an old friend from high school.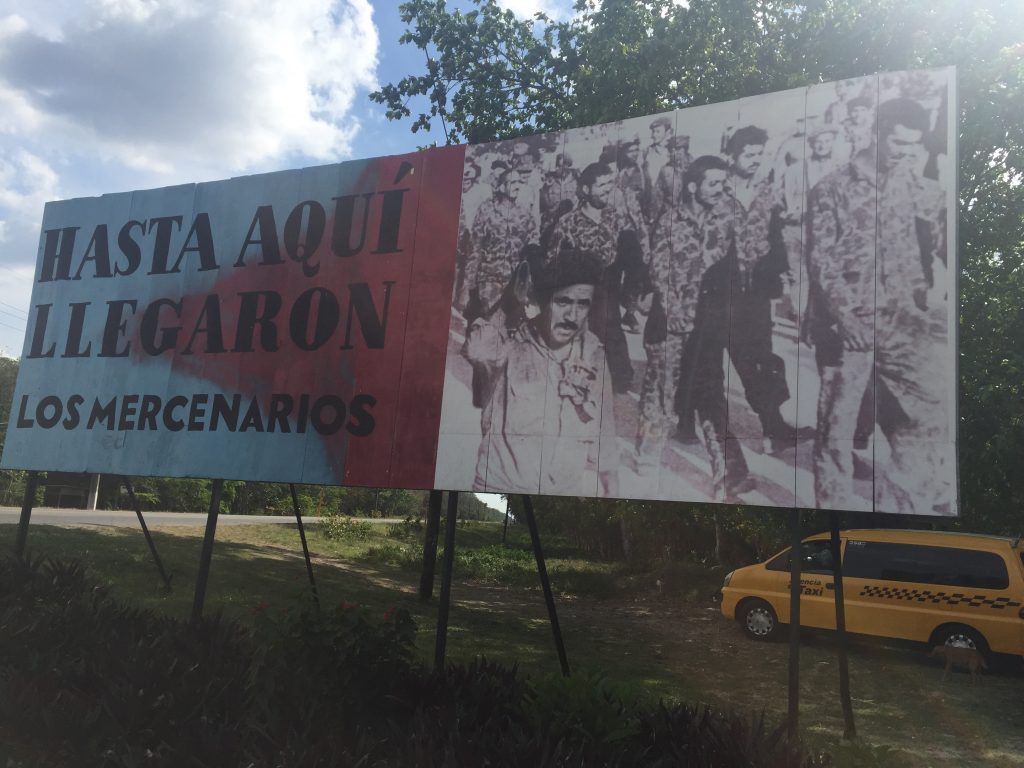 Our trip to Girón (or the Bay of Pigs) allowed us to see the museum dedicated to the reverence of the Cuban victory over the "mercenaries" from abroad. It was interesting to see the veneration of a small victory built into such a tool of propaganda for the state.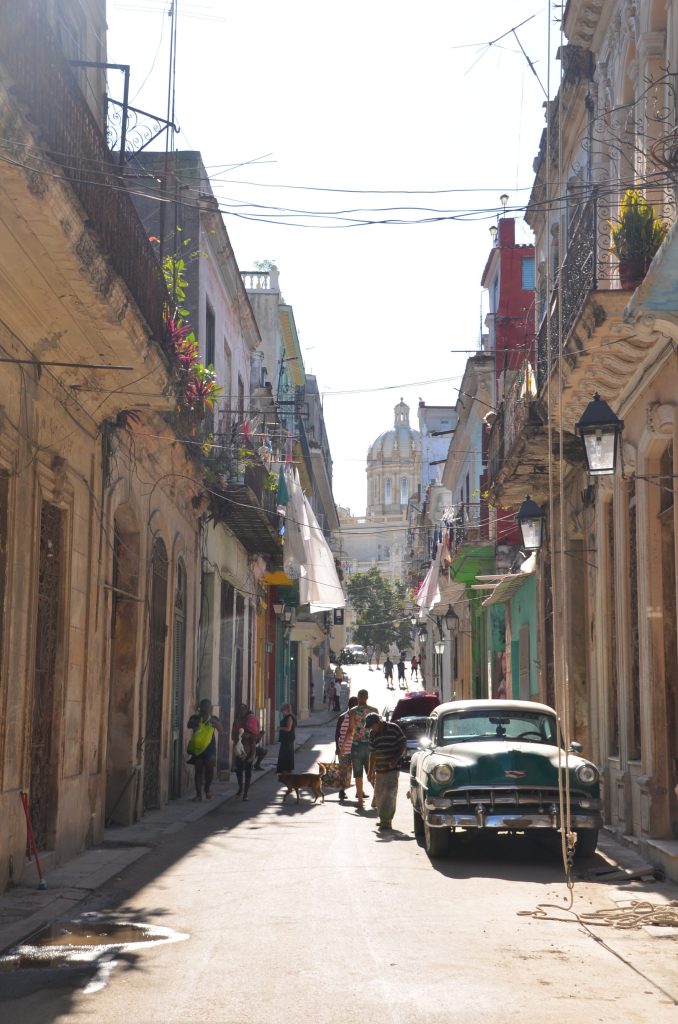 My capitalist upbringing may never truly be able to grasp the "socialist" perspective shared by many of the Cuban people. There is a component of brainwashing in which the idea that "everything is awesome" persists within the Cuban people, when in actuality quality of life is truly poor. Meeting with artists and actors lead to an effort to understand their perspective. In many respects I feel as though they are excited for the opening of the markets, but I feel as though the welfare state has also led to an equality uncomfortable by western standards. The economic comparison I would be able to draw would be to the economy of China in the '90s as expansion developed through the development of special economic zones with great income inequality.
Driving around was difficult, as proximity to other cars feels even more threatening than in Miami. Local knowledge of roads is pivotal to keeping drive time low as potholes and the like could pop up at any time. A drive that took an hour and fifteen minutes from a non-local driver only took 40 minutes for someone with local knowledge (granted, at times, at breakneck speeds).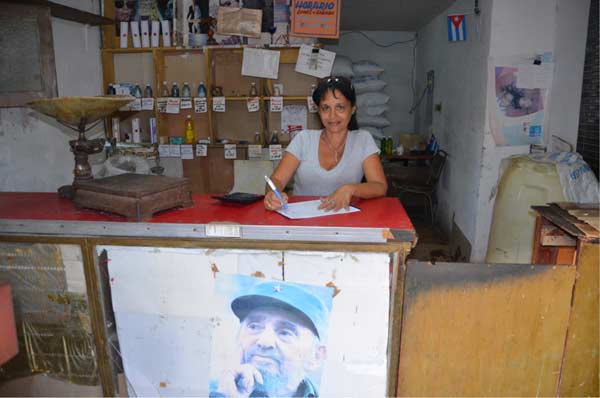 Carlisle Withers
Senior, Marine and Atmospheric Sciences and Spanish
This moment struck me. Here is the first "Cuban store" we saw in Havana. This was a real Cuban store; one that normal "habaneros" frequent to get supplies that they need to live. It was located in Vedado, the lively neighborhood where we were staying in Havana. If you look closely you can see the prices and the items for sale behind the woman at the counter. There are black beans priced in Cuban pesos at $0.80 and oil is priced at $0.20. There's some detergent on the left hand side of the shelf. The top shelves have salt, pepper and coffee beans. All of the items are stored inside old water bottles. I asked this woman if I could take her picture and she first replied "Of Fidel?" and I corrected her and said "No, of you." She seemed a little confused and flattered by my request, but I wanted to document her in her own store. This was actually the only store we saw in all of Havana. There was nowhere to go to buy a water bottle, a snack or even sunscreen. In Vedado, there were occasional fruit stands or entrances to homes where, inside, you could find old DVDs or CDs being sold at discounted prices. People's homes have turned into small private shops. Yet these beautiful old mansions that have been divided up for multiple families reveal a stark contrast. On the outside, you see crisp Spanish architecture, yet if you look inside the frame of the doorway it looks like a bomb has gone off inside.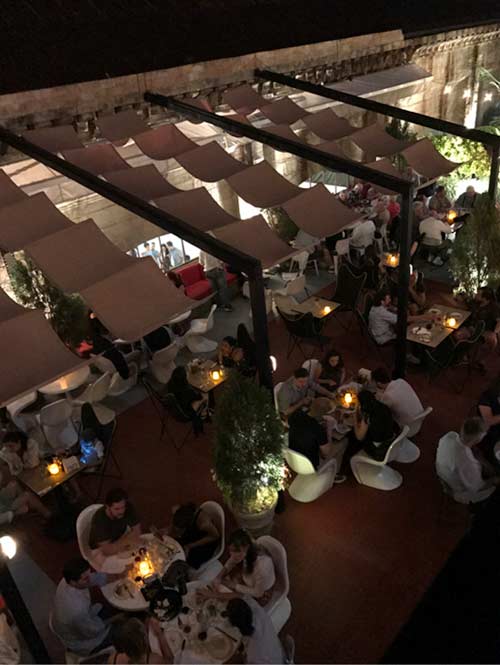 When you see these dilapidated homes, it is hard to imagine how La Fábrica de Arte Cubano exists. La Fábrica stands out in Havana with its tall smoke stack that is part of an old olive oil factory that has now been converted into a gallery, nightclub, bar, restaurant and theatre. As we got closer to the signature smoke stack, we began to notice the line of people waiting on the streets. The line went on for about two whole blocks beginning at the entrance of La Fábrica where you must pay around two CUCs to get in.
We walked around to El Cocinero, a restaurant associated with La Fábrica, for dinner, where we ate tuna tartar appetizers and had fresh Caribbean spiny lobster on creamy white rice. We drank $2 Havana Club Rum mojitos and watched people dine from above on the roof top bar.
The bar and restaurant was full of tourists; some white European looking, others possibly American. As we left the restaurant, I looked more closely at the line of people waiting to get into La Fábrica. The line was full of young Cubans. They had flocked to this modern oasis. They may ride in broken down cars from the 1950s and wear shirts that say "Adibas," but they also are here at La Fábrica looking to be a part of modern Cuban art and nightlife.
I couldn't comprehend how La Fábrica could exist in such close proximity to the Cuban store I had seen earlier. How could we have eaten fresh seafood, while my current neighbors in Vedado could only buy fruits and beans? The Havana for tourists and the Havana for "habaneros" seem like two entirely different cities. At the same time, the youth at La Fábrica show the beginning of a change. Boundaries are beginning to be crossed. The young Cubans are drawn to places like La Fábrica, and its obvious popularity could possibly push for more "modern" places to arise in Havana. For now, Havana is a place of such contrast and disparity.
Matías Buedo
Senior, Neuroscience
My journey to Cuba was filled with surprises I had not expected. The very first things I noticed, leaving the airport, were the antique cars and political propaganda around the island. No matter where we went in Cuba there were antique cars throughout, along with sayings or images of Che Guevara or Fidel Castro. The antique cars were somewhat expected but they were all in great condition, probably one of the best-kept things I saw amongst the overwhelming poverty. What I did not expect was the abundance of propaganda regarding Fidel and Che. This shock came to me due to the fact that the majority of Cuban people I know from Miami have expressed negative feelings towards the two. It could have been a mix of oppression and forced pressure to speak highly of Fidel and Che, and then those who actually liked them.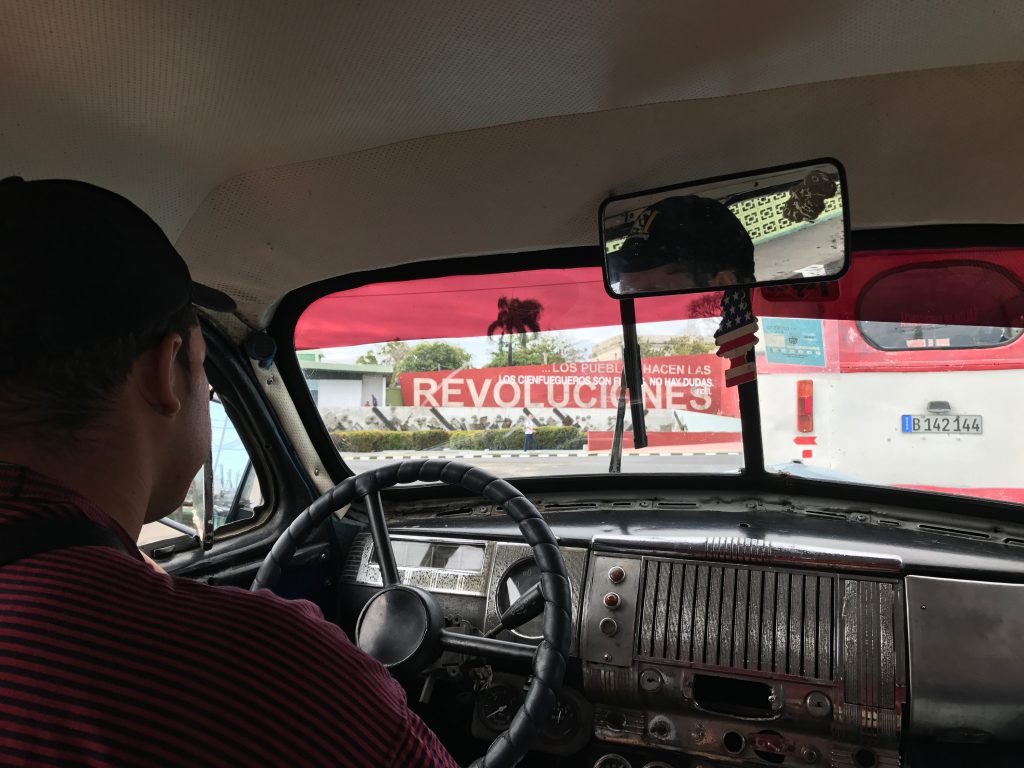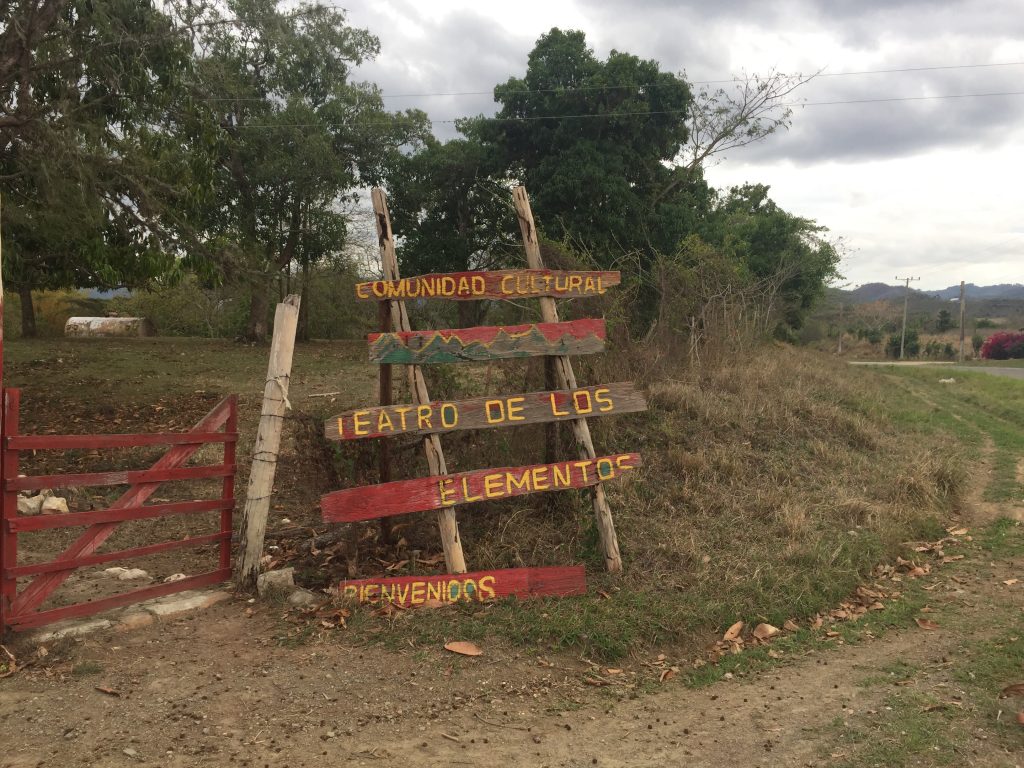 The beauty of Cuba far exceeded what I had expected as well. For a country with so little, it is an astonishing sight to see. The street artisans and nature both came into play wherever we went. Everything seemed to fit in beautifully into the landscape. The beaches at Varadero had crystal clear water, comparable even to the natural spring we visited in El Nicho Natural Park, in the mountains close to Cumanayagua, which itself was an amazing sight. On the westernmost side of the island, in Viñales, there were mogotes, which are isolated hills hundreds of feet tall made of limestone. One of the mogotes even had a cave-styled restaurant under it, along with a massive mural of art that spanned several hundred feet. Surrounding the mogotes is fertile land where we visited an original Cuban artisanal tobacco farm where cigars are made. The amount of beauty on this island is surreal.
Going to Cuba almost felt like going back in time. Besides the antique cars and historic European-styled architecture, there were many things that reminded me of stories I heard about my parents' or grandparents' childhood. People were more connected and everyone said hello to each other when walking past. The sidewalks were always packed, and Cuba is a very pedestrian friendly country. The lack of internet lead to people looking up and interacting more in person versus just staring down at theirs phones and texting.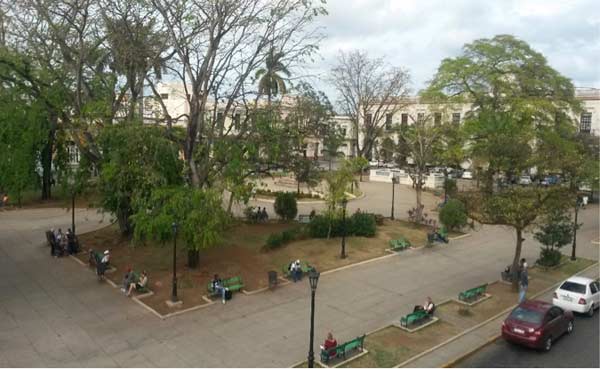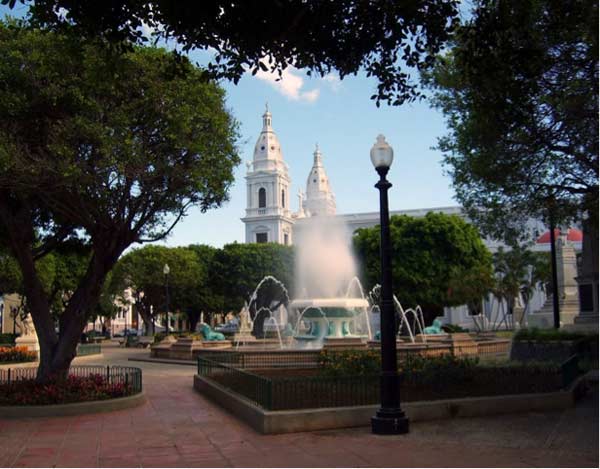 Jerónimo Ferriol
Senior, Exercise Physiology
Coming to Cuba meant a lot for me. I visited my grandmother's hometown, Matanzas, 66 years after she left. I reconnected with my family, who still lives in Matanzas. Seeing this city reminded me of my hometown Ponce, Puerto Rico. I felt like "un jíbaro en tierra guajira."
Plaza La Libertad in Matanzas has the same landscape as Plaza Las Delicias in Ponce. The buildings in the center of both cities have colonial architecture. Also, Matanzas and Ponce are well known for their culture, music and art. Being in Matanzas was phenomenal. I was received with open arms by my distant family. This was an important moment because I could explore my Cuban roots deeper that I thought. Seeing Villa Lupe, the house where my grandmother grew up, was unbelievable since I was the first of the family out of Cuba to see it. The current owners of the house could not believe that I was there and they welcomed me to see the house. The house was destroyed, but it still had the original glass window with the name of the house Villa Lupe. As I was seeing the inside of the house, I imagined how it would have been like back then. I imagined my grandmother during her teenage years studying inside the house and my great-grandmother cleaning the backyard. Later, I met my other family members from Matanzas. I told them about family outside of Cuba. They knew nothing about us since there had been no communication after my grandmother left. I was so happy to learn about my family. After spending a few hours with my cousins, they asked me to come back and bring my siblings with me.
Brenda Ponce
Senior, Spanish and Psychology
I was impressed with the entire trip to Cuba. We arrived to Havana where we stayed in some lovely casas particulares (private homes). Upon arriving you immediately feel the energy of the people and the city itself. It was nice to see the tension-free mixing of races and the interaction between everyone in the neighborhood. I enjoyed learning more about Cuba and its culture. The variety of experiences on the trip was important: music, art, architecture, education, history, eco-tours and seeing the countryside. I truly enjoyed our tour guides, Jorge and Jaime, who showed us around old Havana. Jorge Garcell is an architect and archaeologist from the National Council of Cultural Patrimony and Jaime Gómez Triana is a theater critic from Casa de las Américas. They both were informative and educational. We made our way through historic plazas such as Plaza Vieja and Plaza de la Catedral. There was a true sense of charm walking through old Havana and seeing the old buildings with vibrant colors and antique cars.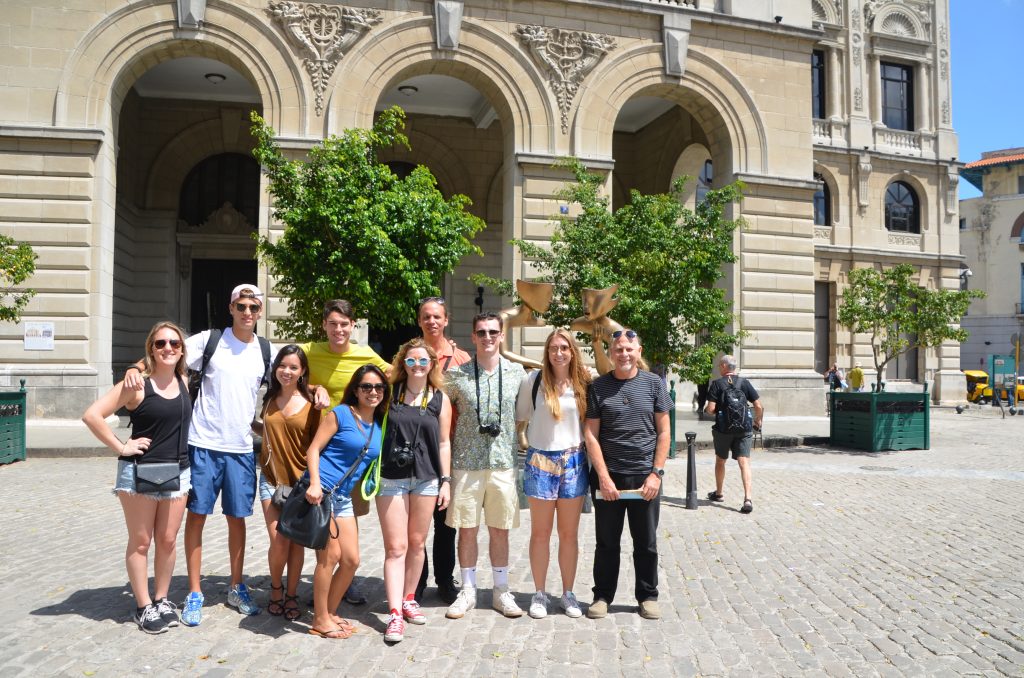 In addition to visiting Havana, we also made trips to Viñales, Matanzas and Cienfuegos. At Viñales we hiked along a trail leading us to a tobacco farm, where you get to learn about the tobacco harvesting process. The valley and surrounding area was beautiful. Afterwards we enjoyed an amazing meal, probably the best I've had. When in Matanzas we visited a couple of museums where we learned about Cuban visual arts, films and theater. We also made a day trip to Varadero. The beach was stunning, with perfect turquoise water and white sand. Before leaving Matanzas, we paid a visit to the Rebel Slave Museum where we learned about the 19th century slave revolt. We also visited a museum about the Cuban revolution, where it explained the Bay of Pigs incident.
It was nice to see the contrast between the rural and the city areas. Despite the city being old and a bit run down, the places seemed to be nonetheless clean. In old Havana, just a couple of blocks away from the touristy area, there are streets where you can see the true poverty. Several families living under one roof. Overall everyone was so friendly and I never felt threatened. Cuba was probably safer than any other foreign country I have visited.
Tatum Nugent
Junior, Marine and Atmospheric Science with a Minor in Spanish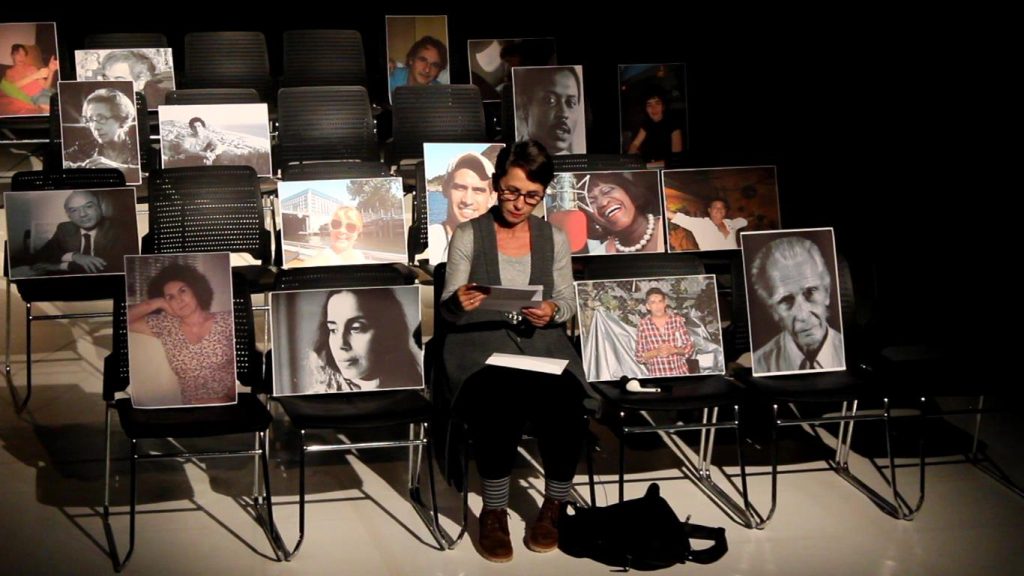 It was extremely interesting to finally see Cuba, the country we have been discussing for the past two months. In our class, we focused a great deal on issues including an evolving culture, slavery and the agricultural industry—sugar, coffee and tobacco. Throughout our trip, we visited several locations that related to our class topics including La Habana, Matanzas and Cienfuegos. In Havana, while exploring the old city, we stopped at the still-standing home of the Condesa de Merlín, a wealthy creole elite. In class, we read some of her letters that described old Havana. In her Carta XX, she describes her slaves as "lazy" and how they used to "lounge around the courtyard socializing instead of working." We could look inside the courtyard that she was describing during our tour—it was fascinating to see this place that was described in the 1840s to still be standing there today. I found Havana to be a very interesting city not only because of its size but also how safe it was and how social. While in Havana, we also saw two plays that highlighted many of the gender, social and political issues that are at stake in contemporary Cuba. This trip was extremely rewarding and I am grateful for the time I got to spend in Cuba. It enhanced my class experience by being able to compare what I was reading to what I was seeing, while exploring the country and its culture.
Mackenzie McDougal
Junior, Biomedical Engineering and Spanish
Before we left for Cuba, I had a few ideas of what I might see but I really had no concrete expectations about what the environment would be like. I expected to see people on the streets, I expected the prices of basic necessities like food and toilet paper to be really high, and I expected the buildings to look a little dirty and run down. I did not expect the sidewalks to be in pieces, the never-ending number of stray dogs and cats on the street, or the masses of people that perched themselves outside on the sidewalk with nowhere to go.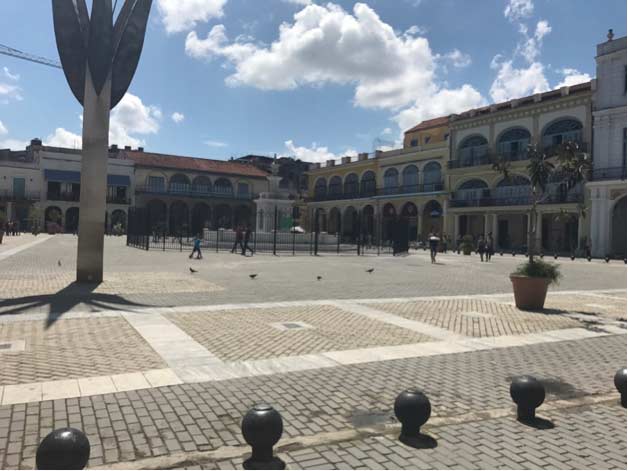 Especially in Havana, the poverty in Cuba was immediately very apparent. On our tour through Vedado, it was hard to miss the sidewalks that were in crumbles throughout the neighborhood, or the many buildings that appeared abandoned. The old cars were fascinating at first, until I realized that they could only afford old cars because new cars are far too expensive for most Cubans to even dream of ever owning. The poverty was clear in every corner of Cuba.
Standing in a plaza in La Habana Vieja on our second day, I noticed a single crane near one abandoned building. That was the only crane I saw the entire trip, even though I saw countless skeletons of buildings that clearly needed to be either torn down or at least restored. Additionally, that lone crane was in a tourist-rich area of the city that has historically been a wealthy area in comparison to the rest of Cuba. However, when we turned the corner and walked up a side street, we saw where the real Cuban people lived in Havana, which looked nothing like the clean Habana Vieja. The buildings were all filthy and a few were missing parts of the façade. Many of the homes had their doors open so we could look right in and see the individuals living in the house, which almost appeared to be an unsafe environment to live in.
One would think that the revenue generated from the hotels, museums, shopping and other tourist attractions should be more than enough to at least begin to alleviate some of the poverty within the country, or at least begin to rebuild the infrastructure. There is no reason for there to be so many potholes, the sidewalks should be walkable, the buildings shouldn't all look like they're about to fall apart. It was very clear that the military still has a strong presence for the people because of all of the propaganda billboards around the country. The number of times I saw Che Guevara quotes on billboards or even on the sides of buildings, in addition to the phrase "¡Venceremos!" and continuing the fight for socialism was mind-blowing. These signs suggest that the military still has a huge influence in Cuba and that almost the entire government's budget goes toward funding the military instead of supporting its own people, further perpetuating the staggering poverty of the country.
- UM News