Jazz Cubano
Afro-Cuban Jazz masters forge new frontiers at the Frost School.
"Teaching touches a lot of our spiritual aspects and requires a lot of compassion, discipline and respect, which, to me, is something that relates to the spiritual world," says Dafnis Prieto, a 2011 MacArthur Fellow, and a Grammy and Latin Grammy nominee who joined the jazz faculty of the Frost School of Music two years ago. Originally from Cuba, his progressive approach to drumming and composition quickly revolutionized the New York jazz scene when he arrived there in 1999.
At the Frost School, Prieto's impact is already rippling out with notable results. Students in the Dafnis Prieto Artist Ensemble won the Top College Combo category at the 2016 Monterey Next Generation Jazz Festival.
As members of the Frost Salsa Orchestra trickle into Gusman Concert Hall, Prieto, who is rehearsing the ensemble for a year-end concert, passes out the parts for one of his original compositions, Two for One. There's the usual cacophony at the beginning of a rehearsal: warm-up phrases, a quick run-through of what looks like a difficult passage, a scale to loosen up lips and fingers. Then Prieto calls to attention, the noise dies down, he counts off and the music starts.
About the Photo
Pianist Gonzalo Rubalcaba performs at a concert with the Henry Mancini Orchestra in October 2015. Photo credit: Versatile Light Studio
In typical African and Afro-Cuban fashion, each individual part does not appear to be particularly difficult, but the subtle interlocking of patterns demands both good playing and good listening. He stops the ensemble after just a few bars and turns his attention to the rhythm section.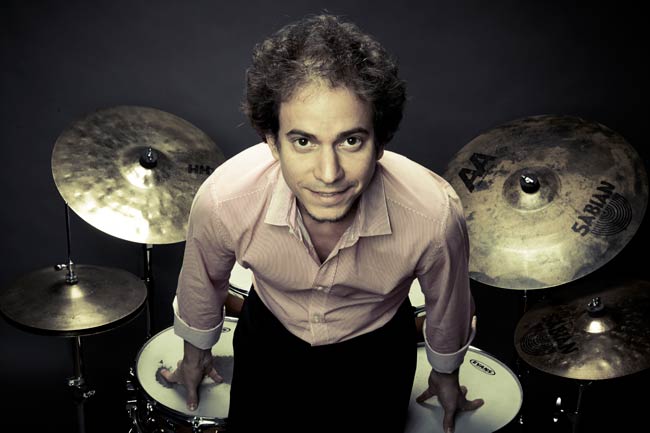 "Think of Mozambique-meets-Babalú Ayé," he suggests, invoking both an Afro-Cuban rhythm and the music for a Yoruba deity. He then taps a few sample beats on his music stand—and somehow, it works. The rhythm section clicks into place. With the percussionists, the bass, and the piano now locked-in, bit by bit, and in fits and starts, the contours of the piece begin to emerge. As the rest of the players find their way through their parts, Prieto lets things run, stopping only to clarify a section entrance or to make sure a part is correctly notated.
"We'll deal with that later," he says as a particular performance issue comes up. He just wants to get through the whole piece, once. By the end of rehearsal, the orchestra does so with flying colors, solos and all.
Senior Murph Aucamp, a drum set major and percussionist and a member of the salsa orchestra, says, "Studying with Dafnis has opened up my playing. I feel my technique is better. But I also feel that my mind is more open. Playing is not just about 'OK, my right hand does this while my left hand will do that' but about the flow of the music. It's the difference between playing what's on the page and actually playing music."
"I like to see myself as offering guidance to students, giving them options, because many times they have a narrow way of looking at music, says Prieto. "For me, it's important they understand that, even though they are into Charlie Parker and John Coltrane, they are not living in their time. So yes, study what they did, but do not allow it to limit yourself. My responsibility is to give them the belief that they can do something of their own. Jazz music is about the expression of individuality."
Pianist-composer Gonzalo Rubalcaba employs a similar approach while working with a small jazz ensemble. As the quintet works through one of the band member's original compositions, he doesn't say a word; he doesn't even allow himself a gesture that would suggest approval or criticism. He just listens, intently. Only at the end, and speaking very deliberately, does he offer the group suggestions about the form of the piece and the order of the solos to get greater contrast.
"Yes, you could discuss this and that, but you have to be careful not to say too much and also how you say it," he explains afterwards. "You don't want them to play afraid of making a mistake. They have to make mistakes. They have to play out."
During his interactions with students he seems like a natural, yet Rubalcaba says he was reluctant to get involved in teaching and academic life.
"It was not false modesty, but I didn't think I had much to say to others. I felt I still had a lot to work on myself," says Rubalcaba, a multi-Grammy and multi-Latin Grammy winner. He recalls a conversation, a few years ago, with fellow pianist Shelly Berg, who was then coming to the University of Miami to become the dean of the Frost School of Music. "He told me about his plans, and we left it that if I ever decided to teach, I would come to Frost," says Rubalcaba, who joined the jazz faculty in 2015. "But I also told him that I didn't want to show up one day, teach a class and then come back a year later, but to really develop certain ideas."
Rubalcaba says he wanted his encounters with the students to have more of a "spiritual feel."
"I remember my days as a student. I felt that sometimes teachers emphasized theory too much, certain formulas," he says. "And that sometimes doesn't leave much space to account for the different talents, the different places students come from, the different expectations they might have."
He adds, "One of the most important tasks in dealing with students is that they find themselves—which is difficult because they are at an age in which their personalities are not yet fully formed," he says. "I believe one of our roles (as teachers) is to serve as a guide, as a tool in that search."
Both Prieto and Rubalcaba had a strict classical music education growing up in Cuba. But while the subjects they now teach and the approach they use might be different from those at the conservatory, both suggest that some lessons are worth passing on.
"It's more about a certain attitude than about the subject matter," says Prieto. "What we teach is what we learned on our own. Gonzalo and I are making a living out of what we did outside the school in Cuba. But at the same time, there's the discipline and the idea that music, it's not just a job. It's a passion, a way of life. That is something that I got from some of my teachers in Cuba."
Rubalcaba agrees. "What I take from the Cuban music schooling is the discipline," he says. "There wasn't a popular music department, so even if your interest was the Afro-Cuban tradition or popular dance music, you had to study the European classical technique and repertoire. There was a different world on the other side of the door, but in school, there was a certain inflexibility and dogmatism."
Prieto and Rubalcaba joined a faculty at Frost that are highly regarded in Latin jazz circles, such as trumpeter Brian Lynch; pianist Martin Bejerano, M.M. '98, and arranger Alberto de la Reguera, the longtime director of the Frost Salsa Orchestra.
And seemingly just like that, the University of Miami Frost School of Music served notice that it was not only a top jazz school but the place to learn about Latin Jazz and Afro-Cuban music from some of the genres' master practitioners.
"Actually, it's been a very natural evolution," says trumpeter, composer and bandleader John Daversa, assistant professor of music and chair of the Department of Studio Music and Jazz. "It's nothing that we have proclaimed as a directive. It happened very naturally, as it should, because of the place we are. It's in our own blood, just out of the fact of living in Miami."
Daversa, whose album Kaleidoscope Eyes: Music of The Beatles, was nominated for three Grammy Awards this year, notes that while Latin music has "always been an inspiration, for whatever reason it hasn't made its way directly into my own music." Then again, as it turns out, a Rubalcaba arrangement on a Daversa composition contributed to the success of the Frost Concert Jazz Band, directed by Daversa, winning its category at the 2016 Monterey Next Generation Jazz Festival. "He turned it into an Afro-Cuban piece and it was awesome," he says.
Bejerano, a Cuban-American who considers himself a Latin musician who plays jazz, rather than a Latin jazz musician, says that "while there have been some really good people who have been adjuncts, it was long overdue for a music school in Miami to have people on the faculty who are really experts on this music."
The Grammy-winning Lynch, who joined the Frost School of Music faculty in 2011, was a pioneer in this process. A musically bilingual player, as comfortable with hard bop as with salsa, Lynch emphasizes that "the important thing about what is happening (at Frost) is that learning about Afro-Cuban music and Latin jazz is not being presented as a side dish; it's not an optional addition to being a jazz musician. It's part of a contemporary musician's basic skill set. You must have a knowledge of these traditions." Lynch's most recent project, Madera Latino, was also nominated for a Grammy Award this year.
"It's not as if this is an extra thing," Bejerano adds. It's an important part of the history of jazz. It's part of learning about this music."
Senior Marcelo Perez, a Stamps Music Scholar in the Frost School of Music, the drummer in Rubalcaba's ensemble class and a percussionist in Prieto's large ensemble, is a San Francisco native for whom "playing Latin music was part of the attraction for coming to Miami."
When discussing his work with Prieto, Rubalcaba and Lynch, Perez speaks of the technical improvements in his playing, about learning to hear and translate the rhythmic layers played by a Cuban rhythm section to the trap drums and about developing his soloing.
But there's another aspect to it.
"I would say that spirituality in music is the most important thing for me, the joy it brings," Perez says. "I was just talking with Gonzalo yesterday, and he said how for him there's no happiness as intense or fulfilling as the feeling when performing music—and that's how it is for me. When you tune into music, everything else falls away and you find yourself in this place that's magical."
- FERNANDO GONZALEZ / Special to UM News