Collaborative Scholarship in the Americas

UM Hillel students reflect on their March 2017 Alternative Spring Break trip to Cuba.
During seven days in Cuba, 14 students from the University of Miami Hillel spent their days touring the eclectic and vibrant country, visiting Jewish community centers, Jewish cemeteries and celebrating Jewish traditions with locals from the Cuban Jewish Community.
Below are some of their reflections.
March 11th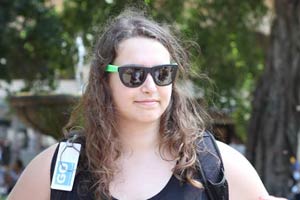 Mollie Cole
Mollie is from Atlanta and is a freshman at UM majoring in Latin American Studies.
When I got to the Ft. Lauderdale airport on the day we left for Cuba, I still thought that, having lived in Miami for the greater part of a year, I would be prepared for this Cuba trip. In Miami, friends and I eat at Havana Harry's, we play dominoes on Calle Ocho, we party with reggaeton and salsa music, and we filter through our Uber driver's thick Cuban accent as we get around to all of these little pockets of Cuban culture in South Florida. We drink Cuban coffee with our Cuban friends and walk past the Cuban Heritage Collection on the second floor of the library when we're studying. While I knew Cuba wasn't going to be like Miami (nowhere is), I was pretty sure that Miami did a great job of being like Cuba and that I would adjust on the island as seamlessly as I had in Miami, coming from Atlanta.
About the Photo
The University of Miami Hillel student group at the national Havana Club rum factory in Havana, Cuba, in March 2017. Photo credit: Jessica M. Castillo
On our first afternoon, we had lunch at a restaurant on the 33rd floor of one of Havana's few high-rises, unlike Brickell's (in Miami) countless sleek skyscrapers. Leaving Miami's international flavor at the airport, we were greeted with Cubans' electric national pride, and we saw it manifest itself as flags, murals and billboards everywhere we went. This, combined with the idiosyncrasies of Cuban life that simply aren't a factor in the U.S. made me realize that while Miami has Cuban influences, Cuba is a place that deserves to be experienced in its own right.
Jessi Vishny
Jessi is a sophomore pre-med student at UM majoring in media management. She is from Chicago.
After weeks of planning and patiently waiting for the day to come, we hopped off the plane early Saturday afternoon and began our Cuban adventure! At the airport bathroom in Havana, we were confronted with 3-foot stall doors, toilets with no seats and a limited amount of toilet paper. After loading onto the bus, we met our lovely tour guide Margarita and our first stop was an elegant Cuban restaurant on the 33rd floor of one of Cuba's most famous buildings. We had fun looking out over Havana and getting to know each other. After lunch we went to see the (Beth Shalom) synagogue and enjoyed a Havdalah dance performance put on by the people of the Jewish community of Havana at their community center. They got us to shake our booties and dance to the Macarena. We then spent the night roaming Havana and enjoying the nightlife. The clubs were so different from those in Miami but we had a blast dancing like there is no tomorrow #YOCO
March 12th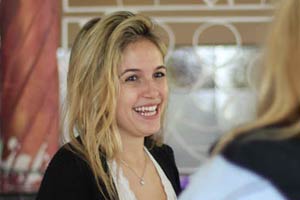 Courtney Druckman
Courtney is from Coral Springs, Florida and is a sophomore at UM studying accounting and business law.
On Day 2 in Cuba the tour took us to two Jewish cemeteries in Havana. It was incredible to see the Jewish community that William's (William Miller, former vice president of the Patronato Casa de la Comunidad Hebrea de Cuba, or the Patronato, the Cuban-Jewish Community) grandfather formed long ago here in Cuba. His grandfather was actually buried in one of the cemeteries, so we stopped at his gravesite, and William explained his story. The Millers' story made me realize that Judaism and being Jewish is all up to the people. It takes people to come together to form a strong Jewish community. When everyone was fleeing from Cuba during the 1959 revolution, William's grandfather decided to stay because forming and growing a strong Jewish community in Cuba was important to him. This aspect has become very important for me in my life. This year I am the Campus Engagement intern for UM Hillel and it is my job to bring Jewish students together on campus to form a sense of belonging and community and to have that special bond. So it was absolutely beautiful and touching for me to learn about William and his grandfather doing the same thing, but in Cuba!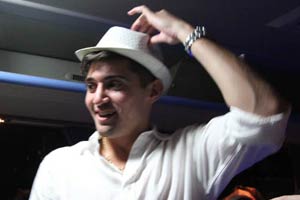 Jake Teplitzky
Jake is a freshman at UM majoring in human and social development and is from Woodbridge, Connecticut.
The day we visited the cemeteries was a day of emotions. We traveled to two Jewish cemeteries, a Sephardic cemetery and an Ashkenazi cemetery. The Sephardic cemetery, the first we visited, was right next to train tracks. As I was walking around the cemetery grounds, I went to an area with flat stones. I saw that the caretaker needed help fixing a tombstone. I helped. He then told me that the tombstone was of a child who had come to Cuba from Europe and died on the island after having been in a concentration camp. This brought up a lot of feelings for me, considering that I had gone on the March of the Living (an annual educational program that brings students from across the world to Poland to remember and explore the remnants of the Holocaust) less than a year ago. Later that day we went to the Purim festival at the synagogue where everyone was having a great time. I felt all types of emotions, but at the end of the day what I felt the most was how proud I am to be a Jew.
March 13th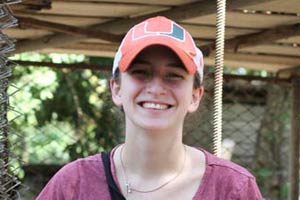 Rachel Price
Rachel is from Westhampton Beach, New York and is a senior, pre-vet student at UM studying microbiology and immunology and working at a parasitology lab at the Miller School of Medicine.
On our third day, we ate breakfast at the hotel, as usual, and got on the bus for the two-hour trip to the Viñales municipality, in the Pinar del Rio province. On the ride to this municipality we passed miles and miles of farmland, cows, horses and horse-drawn carriages and, as we got closer to our destination, mountains and hills. We arrived at the finca Montestino, a tobacco farm near Viñales in Pinar del Rio, around mid-morning and learned all about how the famous Cuban cigars are made. The son of the head of the Montesino farm showed us the fields of over 200,000 plants of tobacco and explained the process of growing the plants, picking the leaves, how the farmowners are paid by the government (which always buys a portion of the product) based on the quality of leaves, drying out the leaves and finally, how to roll the cigars.
Inside the drying house, where the leaves are dried for weeks, three workers—two men and a woman—de-string dried leaves that were on bamboo rods and tied together. Two workers then bundle the leaves into groups and pile them onto makeshift shelves made of bamboo sticks. As we walk through this drying house, it is abundantly clear how hard these farmworkers work, and in 100-degree heat. We were then brought into the farmowner's house, where the owner's second son taught us how to roll a cigar with four leaves and use a fifth leaf as the cover leaf, which is all glued together with maple leaf sap. He taught us about the process of pressing the cigars for a certain amount of time and keeping the cigars at a specific temperature and humidity to make the perfect cigar. After the tobacco farm, we had lunch in a casa particular, a private homestay, on a farm with a view of the Viñales rounded mountains before visiting and shopping in the center of town. Then we went to a cave with an indigenous man with a shell for a horn and a rodent and a hawk as pets. Heading home, we got a chance to go to a lookout point next to El Hotel de Los Jasmines, a hotel on a small hillside, and we saw this outstanding view of the countryside and Valley of Viñales. It was a great photo op and a beautiful view.
March 14th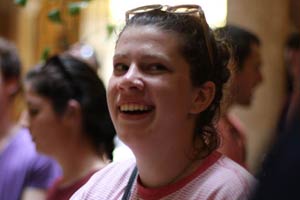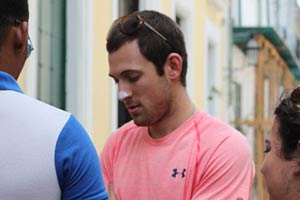 Sydney Epstein and Kevin Druckman
Sydney is a sophomore at UM, from Philadelphia, and is majoring in public health and minoring in Spanish and sociology.

Kevin, 22, is from Coral Springs, Florida and is a recent alum of Florida Atlantic University in Boca Raton. He is Courtney's older brother and the siblings wanted to enjoy this experience together.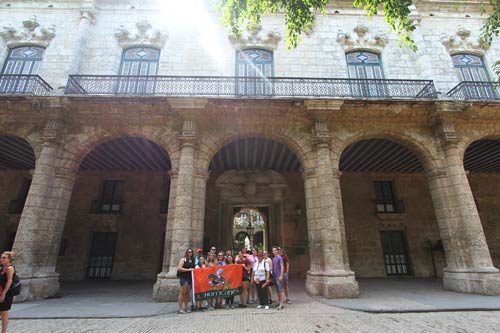 Day 4–We woke up this morning with the hopes of going straight to the Havana Club Rum Factory. However, running on Cuban time, the factory wasn't open yet, so we walked around the edge of Old Havana, near the port, and found a little café. We all sat and watched the World Baseball Classic game between Japan and Cuba and sipped café con leche. Once the factory was open, we wandered in and took a tour to learn about the process of fermentation and the distribution of the rum. Of course, we stopped into the gift shop at the end of the tour, before hopping back on the bus and going to our next destination: Fuster's Art House. It was a building covered in mosaic art tiles with lots of outside views in addition to art pieces for sale. Later, we visited another art community called Muraleando. We then headed to lunch at El Ajibe Restaurant, a traditional Cuban restaurant, with a lot of tourists, and well known for their secret family recipe for marinating chicken. We ate chicken, rice, beans and potato chips. We then went to Revolution Plaza and then to a local Cuban supermarket and shopping center, where some of us stopped in to an American jazz bar. After this, we went back to the synagogue and, with the local teens there, we did some Rikudim dancing and learned some choreography for a few dances. While dancing, a table collapsed when Jake Teplitzky jumped up and sat down on it hard. We said goodbye and went back to our hotel to change for dinner and a night out. We had dinner at La Paila and then made our way to the Havana Club where we watched a dance show and listened to jazz music.
- UM News