Comparative Studies Could Identify IBD 'Triggers'

UM medical researchers are collaborating with Cuban counterparts to learn more about gastrointestinal disorders in Hispanics.
University of Miami Miller School of Medicine researchers are hoping that collaborations with Cuban gastroenterology specialists will provide fresh insights on inflammatory bowel disease (IBD), ulcerative colitis and Crohn's disease in Hispanic patients.
"IBD is a disease of the Western world," says Dr. Maria T. Abreu, professor of medicine and of microbiology and immunology, director of the Crohn's & Colitis Center and the Martin Kalser Chair in Gastroenterology. "It appears to be much higher in the U.S. than in Cuba."
Abreu and her colleagues have been studying patterns of gastrointestinal (GI) disorders among South Florida's Hispanic population, and she is co-principal investigator for a $1.26 million grant from the National Institutes of Health to explore genetic variation in U.S.-born and foreign-born Hispanic patients with inflammatory bowel disease.
Dr. Oriana Damas, assistant professor of medicine, has examined the Cuban patients in the center's IBD database to determine whether the risk of developing IBD in the U.S. is changing. She has found that in earlier waves of Cuban immigrants in the 1980s it typically took about 32 years to develop IBD once in the US. But since the 1990s, Cuban immigrants have developed IBD more quickly, an average of eight years.
About the Photo
Dr. Maria T. Abreu with health care colleagues in Havana during a November 2016 visit to explore future collaborations on research into gastrointestinal disorders.
"That suggests that something in South Florida or the U.S. is unleashing IBD more quickly," Abreu says. "Alternatively, conditions in Cuba may have changed so the disease process is already underway before they leave the island."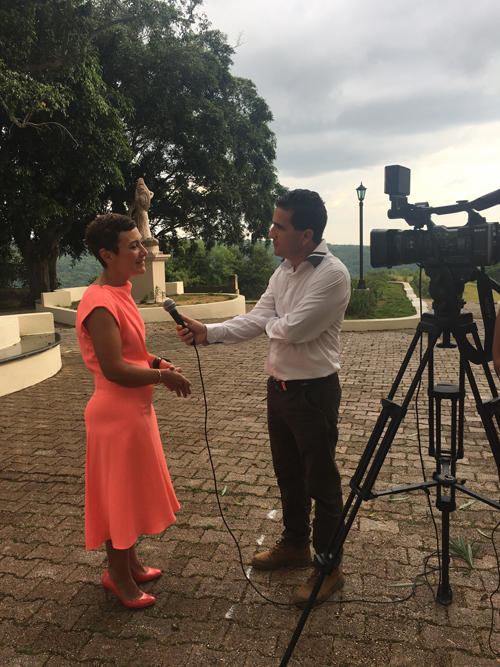 One natural area of research is the diet differences between Hispanics in the U.S. and Cuba. "Until recently, the Cuban people have been in a time capsule, without exposure to processed foods, hormones and antibiotics," she says. "As Cuba rejoins the global community, we would expect to see a rapid rise in IBD and other GI disorders."
Last fall, Abreu, Damas, and Maria Alejandra Quintero, M.P.H., traveled to Cuba, meeting with faculty members at the University of Medical Sciences of Matanzas, GI clinicians at the university hospital and researchers at the Institute of Gastroenterology in Havana. "We would like to launch a collaborative research study, collecting clinical data and genetic data on GI patients in Cuba," Abreu says, noting that the Cuban institutions have applied for independent review board (IRB) approval from the Ministry of Health. "Data from such a study could help us identify the genetic, environmental or diet triggers that lead to IBD and other disorders."
Since that visit, Abreu has continued to focus on the importance of clinical studies that could benefit GI patients in the U.S. and Cuba. Cuba's physicians and scientists are highly trained and the nation's limited number of hospitals makes it possible to obtain prevalence data for specific GI conditions, she says.
"In the U.S. it has become difficult to recruit IBD patients who have not been exposed to many medications," Abreu and Damas wrote in a recent commentary, "United States-Cuba Research Collaborations: Opening Bridges for Gastroenterology," published in the journal Gastroenterology. "By contrast, Cuban patients have generally not received any expensive medical treatment and may benefit from the opportunity to participate in clinical trials."
Looking ahead, Abreu believes there are many opportunities to partner with Cuba on collaborative research.
"As travel to Cuba becomes more commonplace," Abreu says, "we can imagine scientific exchange and shared postdoctoral training programs, as well."
- RICHARD WESTLUND / UM News