Health Care in Haiti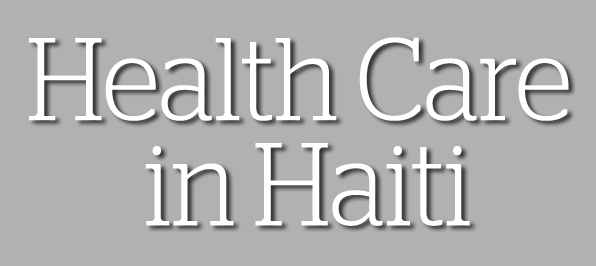 The University of Miami and Project Medishare provide much-needed medical services in Haiti, and are training Haitians to help Haitians.
More than 23 years ago, Barth Green co-founded Project Medishare, an organization that depends on volunteer doctors and nurses from the University of Miami and around the world to provide quality health care to Haiti's poorest populations and training for the country's health care workforce.
Green, chair of the Department of Neurological Surgery at UM's Miller School of Medicine, was there, in January 2010, immediately after the devastating earthquake that knocked down Port-au-Prince and killed tens of thousands of people.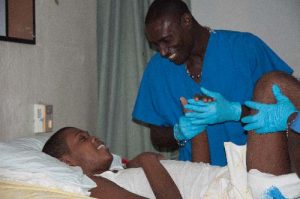 UM doctors, nurses, engineers and others established a tent hospital on the grounds of the main airport, treating more than 30,000 victims over five months. When it closed, the tent hospital moved to Hospital Bernard Mevs, becoming Haiti's first critical care and trauma hospital.
When Hurricane Matthew ripped through the Caribbean in October 2016, Project Medishare provided tons of supplies, and its staff treated thousands of injured at a clinic in Jeremie. Trauma patients were transported to Hospital Bernard Mevs in Port-au-Prince for more advanced care.
About the Photo
Patients wait to see doctors at Hospital Bernard Mevs in Port-au-Prince, Haiti.
And, on January 17, 2017, Project Medishare Hospital Bernard Mevs opened a new wound care clinic in Port-au-Prince – the first of its kind in Haiti.
Project Medishare and the University of Miami have a long and committed relationship to Haiti for providing health care and training its doctors and nurses to improve treatment.
"We were there 20 years before the earthquake and we will be there 20 years after," says Green. "I am very proud of what we and our partners have accomplished, but it truly represents only the beginning. All that Haiti needs and wants is opportunity."
To read these stories and more, visit the Haiti Special Report produced by University Communications and published on January 12, 2015 – the fifth anniversary of the earthquake in Port-au-Prince.
https://haiti.miami.edu
- UM News