Cuba – Calixto Sharing Insights On Trauma Care

A budding relationship between University of Miami doctors and their counterparts at a University of Havana hospital is taking shape.
Dr. Martha Larrea Fabra is one of the leaders at the University of Havana's General Calixto Garcia Hospital.
A full professor and a specialist in general surgery, she has studied with doctors near and far, and has spent time in South Africa and Ethiopia. Now she is involved in building a growing partnership with surgeons from the University of Miami's Miller School of Medicine, and doctors at other U.S. medical schools.
Since 2012, Larrea Fabra and others at Calixto Garcia have hosted guests from the Miller School, including Dr. Tanya Zakrison, a surgeon at Jackson Memorial Hospital's Ryder Trauma Center and assistant professor of surgery at the Miller School.
"When I come here," says Zakrison, "I get so inspired to be a better doctor. I see the hard work and the dedication of the doctors in Cuba. They do it for the true love of research and science. Their motivation is non-material."
The Havana hospital traces its roots back to the famed military strategist, Cuban General Calixto Garcia Iñiguez.
About the Photo
The Hospital Calixto Garcia is named after the famed Cuban general, Calixto Garcia Iñiguez, who fought in three wars, including the Spanish-American War. He died in 1898.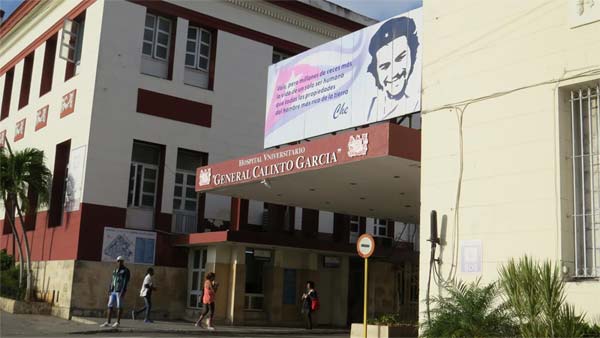 Many of the buildings on the sprawling complex are painted soft yellow with a burnt red trim. At the entrance, a poster highlights a quote and photo of Argentinian Marxist Che Guevara, Fidel Castro's right hand during the 1959 revolution considered by some to be a ruthless henchman who ordered the execution of political prisoners.
"The life of only one human being is worth, so many millions of times over, much more than all the properties of the richest man on earth - Che," the poster reads.
In the midst of an international conference in January 2017 hosted by Calixto Garcia to mark its 121st anniversary, Larrea Fabra flashes a gap-toothed grin as she talks about the partnership with UM doctors, and the information each individual brings to the collaboration.
"This is a relationship where we have an opportunity to compare studies between a bigger country and a small island in the Caribbean," Larrea Fabra says. "It's good for us to obtain knowledge from everyone.
"We have differences in our economies and our technologies," she says, "but we have here all the knowledge of the clinical methods. We rely more on clinical skills and clinical acumen."
Zakrison launched the budding partnership with Dr. Marc A. de Moya, a former fellow in the trauma surgery program at UM/Jackson Memorial Hospital, who is now associate professor of surgery at Harvard Medical School.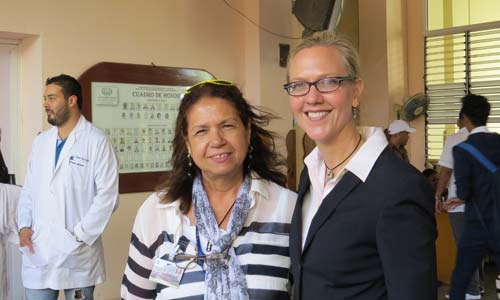 Zakrison, who has made several trips to Cuba to attend conferences and seminars focused on a sharing of information and knowledge on trauma care, has been joined by others at UM: Dr. Enrique Ginzburg, professor and vice chair of the Department of Surgery and trauma medical director at Jackson South Community Hospital; Dr. Daniel Pust, assistant professor of surgery at the Ryder Trauma Center, Dr. Mario Gomez, a current trauma fellow at the Ryder Trauma Center and Dr. Shevonne Satahoo, a fifth-year surgical resident; along with other trauma fellows and surgeons from Harvard and other university medical schools who have also attended.
"The Cuban doctors and nurses show us that health care is a human right, and should be made available to everyone," says Zakrison.
In January, Zakrison presented on two trauma cases from Miami – one involving a shooting victim; the other on a person suffering from multiple stab wounds. Throughout the day, while conference attendees scurried from building to building to listen to talks and participate in sessions outlined in the 66-page program, Zakrison renewed friendships with colleagues, conducted an interview with a Havana radio station, and discussed plans for the fourth annual Cuban Trauma/Emergency Surgery Congress and Trauma Nursing Symposium to be held in May 2017 in Santa Clara, Cuba.
"Every year I think we are increasing our relationship with the United States, from doctors to nurses to students," Larrea Fabra says.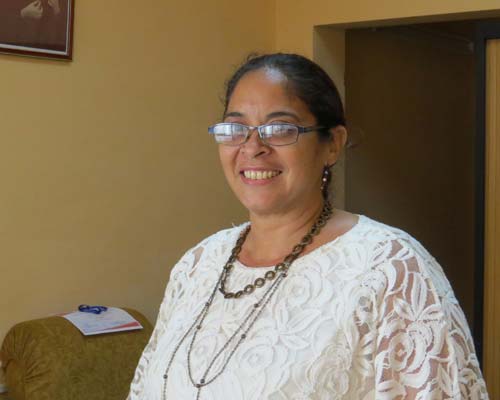 Dr. Yamilet Valdez Gonzalez, chief of the Department of Education and Research at Calixto Garcia, and assistant professor of internal medicine, is proud of the work ongoing at the hospital, and the networks they are building with medical teams across the globe, including Africa and South America.
She embraces the professional relationships she has made with Zakrison and other doctors from the United States who travel to Cuba.
"The people of the U.S. have always had a sense of goodwill toward the Cuban people," says Valdez Gonzalez. "All of this exchange has occurred as though it's among a family, and the only way to describe it is love.
"It's a connection with a lot of love," she says with a laugh.
- PETER E. HOWARD / UM News