A Winning Team

A new scholarship provided by Payless ShoeSource enables a student from the Caribbean to attend UM.
When Chantal Newallo left her Caribbean home in Trinidad and Tobago for the University of Miami, she wasn't quite sure what to expect.
But, at one of the first events she attended, a Hurricanes football game, the students all around her threw up the split U, thumbs touching, hands high and all fingers at attention.
"I saw a family, a big family before me," Newallo recalls. "A University of Miami family—the school has a good family feeling, a community within a community. It's like Trinidad in a way."
Newallo joined that family in fall 2016, and now in her second semester, the freshman is concentrating on geological and marine sciences with a nod toward graduate work in geophysics.
But she knows she wouldn't be at UM if it weren't for the scholarship she received through the generosity of Payless ShoeSource, a popular shoe outlet found not just in the United States, but throughout Central America and the Caribbean.
Newallo is the inaugural recipient of the Payless ShoeSource Scholarship, which is the first need-based, four-year scholarship for an undergraduate student from Central America or the Caribbean.
About the Photo
Freshman Chantal Newallo with UM President Julio Frenk (right) and representatives of Payless ShoeSource Latin America.
"I don't know what would have happened if I didn't get that scholarship," Newallo said in a recent interview. "I definitely want to thank them from the bottom of my heart for their generosity."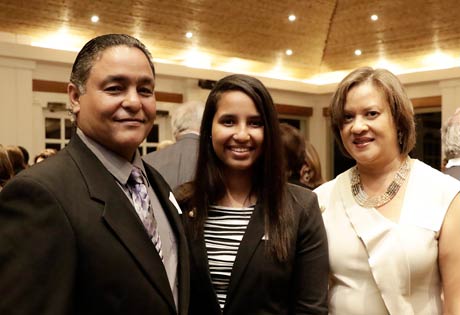 Newallo recently got the opportunity to offer her thanks at a special event in San Jose, Costa Rica hosted by Payless ShoeSource Latin America and the University of Miami Alumni Association.
Nearly 80 people—elected officials, business and community leaders, educators, UM alumni and friends of the University—turned out at the Intercontinental Hotel for the "We Are One U" tour event.
In her opening remarks, Costa Rica Vice President Ana Helena Chacon Echeverria welcomed the gathering and spoke about the importance of education and partnerships.
UM President Julio Frenk noted the numerous projects, research and partnerships the University of Miami is involved with in Central America and throughout the Caribbean, and the rich cultural histories of the region.
He recounted the University's founding vision in 1925 to be a Pan American university. "What I like to say is that we are a global university with a hemispheric advantage," he added.
To highlight that initiative, and give greater voice to Latin America and the Caribbean, Frenk announced that the University of Miami will create a Hemispheric University Consortium "to advance research and education throughout the Americas," and facilitate exchange among students and faculty. UM, he added, will continue to build alliances and partnerships with institutions throughout the hemisphere.
Frenk also announced UM will create a Hemispheric Innovation Hub "to shape the next generation of entrepreneurs and to use groundbreaking advances to spur economic growth. Every successful innovation hub throughout the world includes a comprehensive research university at its core, and that is the University of Miami."
Frenk noted that the success of any initiative or university depends on people. And, with UM's focus to meet 100 percent of a student's demonstrated financial need by the University's centennial in 2025, UM will increase access to excellence for students who otherwise could not afford to attend.
The Payless ShoeSource Scholarship is one commitment to providing that access to an undergraduate student. Frenk acknowledged the Payless leadership for their remarkable generosity allowing students to follow their dreams, and welcomed Newallo on stage to say a few words.
Newallo, one of the top high school students in Trinidad and Tobago, was joined in San Jose by her parents, Cheryl Leacock Newallo and Hayden Newallo, both teachers. She thanks Frenk, the Payless leaders and her parents.
"I want to thank my parents for telling me to never settle for anything less than my best," she said.
Frenk also invited representatives of Payless ShoeSource Latin America to join him on stage, where each was presented a medallion representing their membership in the Bowman Foster Ashe Society, which recognizes individuals who have made a substantial commitment to the future of the University in the spirit of the founding president.
President Ashe established the University's early vision that has resulted in UM being one of the top universities in the country today, Frenk said. He thanked the Payless representatives for supporting that vision, for supporting UM and for supporting its students.
Those presented medallions included Edgar Zurcher, Christian Mouttet, John Keith Sanchez, Joseph Esau and Antonio Handal.
As a freshman, Newallo has fully immersed herself at UM. She is a member of the Caribbean Students Association and plays on the water polo club team. She also serves as a representative for her residential college and volunteers as a mentor where needed.
She's considering study abroad in the future—possibly the Galapagos—and finds the academics at UM to be "eye opening." In the future, she plans to give back to her community and her country.
"The only way to experience what a university has to offer," Newallo said, "is to get involved and make a difference anywhere you can."
Speaking directly to the Payless ShoeSource representatives and what the generous scholarship has meant, Newallo said: "You are not only answering the prayers of my family, but the prayers of future families to come."
The Payless ShoeSource Scholarship, administered by the Office of Financial Assistance Services and the Office of Admission, is awarded to an undergraduate student residing in Central America or the Caribbean. The recipient must demonstrate financial need, and maintain an above average grade point average.
- PETER E. HOWARD / UM News